Dr. SreyRam Kuy was recently interviewed by Sally Croom, Louisiana State University Health Shreveport. This interview was originally published on Inside LSU Health on June 16, 2016 and can be read here

Surgery saved her, now she's saving others.
If it weren't for a surgeon in a Cambodian refugee camp, Dr. SreyRam Kuy might not be alive today. Certainly, his mother would not be.
For the past two years, Dr. Kuy has returned the favor, serving as a general surgeon at Overton Brooks. Veterans Affairs Medical Center in Shreveport. About 30 full-time affiliated faculty members of LSU Health Shreveport provide patient care and training to about 70 residents at the VA hospital.
Survivors of the infamous Khmer Rouge Killing Camps, Dr. Kuy's family had just arrived at the aid camp in Thailand two weeks before a devastating grenade attack. It left her with a head wound and nearly ripped off her left ear. Her older sister, SreyReath, suffered an arm injury, while her mother took the brunt of the blast trying to protect her two daughters. A German surgeon who volunteered in the field operated on all three, saving SreyRam's life and then, against all odds, his mother's as well.
Dr. Kuy credits her mother for the happy and successful lives that she and her sister, a podiatrist in Houston, have achieved. The sisters have written a book in homage to him, for which they are looking for a publisher. Called The Heart of a Tiger, it tells the story of his mother's fierce love and indomitable courage in the face of one of the worst chapters in history. "I believe that really, the message of The Heart of a Tiger is, no matter how dire your circumstances are, never, never give up. God is truly greater than whatever situation you face," said Dr. Kuy.
No matter how dire your circumstances are, never, never give up
The book is also meant to honor the lives of the millions of Cambodians who died during that horrendous time and who they were buried in what became known as the Fields of Death.
The horror began in April 1975, when the Khmer Rouge seized Cambodia and drove citizens from their homes at gunpoint, forcing them into the countryside and jungles. "My mother, my father, their young daughter, and my 70-year-old grandmother joined a crowd of hundreds of thousands of Cambodians who were driven like cattle on a death march out of town. They clung to each other. another, and miraculously, initially they arrived together at the first of a series of labor camps, "related Dr. Kuy.
"This started an apocalyptic nightmare that lasted four years, during which all Cambodian citizens were forced to work in slave labor camps, and those who were too weak to work were executed," said Dr. Kuy. Anyone with an education was marked for death.
Dr. Kuy's mother was a college-educated teacher in Cambodia and her now-deceased husband was a mid-level government worker. They had lived a fairly comfortable life in Phnom Penh with their young daughter, SreyReath. Now, they and other educated Cambodians posed as illiterate rice farmers to avoid being killed, struggling to survive years of hard work and starvation under Pol Pot's regime. At one point, her mother was dragged away by the Khmer Rouge after someone revealed her true background. He used his wit and a Cambodian folk tale to convince the soldiers that they were making a mistake.
They let her go, but others weren't so lucky. Over four years, two million Cambodians died, either from execution, torture, starvation or disease.
Two million Cambodians died, either by execution, torture, starvation or
It was during this time, in the spring of 1978, that SreyRam was born in Talien, Cambodia. His actual birthday is a mystery, as no one had access to the calendars. It was a miracle in itself that their mother was not killed, as were many pregnant women who could not keep up with the hard work in the camps. But what kind of life was he bringing this new child into?
sallow skin, with sunken eyes and a swollen belly. So when I was born, on the edge of the Fields of Death, my mother cried. It felt cruel to bring another life to this living hell. "
The young mother was forced to fend for herself, only with the help of her frail mother. By then her husband had been sent to a re-education camp, many miles from Talien. (Re-education was a euphemism for brutal beatings and savage slave labor.) "There was no hope in sight that the nightmare would end," his mother later told him.
She did everything she could to stay alive and take care of her children. After working all day in forced labor, he crept into the jungle in search of food for his daughters and his elderly mother.
"Once, he was digging for wild bamboo shoots and came across a litter of tiger cubs in the jungle. Terrified, he ran for his life to escape the tiger mamma, who he was sure was nearby. But when returning to the cabin empty-handed, plucking up his courage, and then returning to the jungle to collect more wild bamboo shoots, "according to the family's story.
Says Dr. Kuy: "For me, that is truly heroic. But my mother says now laughing: 'I was not afraid. I was just hungry."
On January 7, 1979, the Khmer Rouge were overthrown in the capital city of Phnom Penh. News of the release took about a month to reach the jungles of Talien. "It seemed incredible," said Dr. Kuy.
However, although they were free, the family had absolutely nothing. The city had been destroyed. "Our house in Phnom Penh had disappeared, and squatters had taken over our family's farmland," Dr. Kuy reported. Realizing there was no chance for a future there, Dr. Kuy's mother took her two and six-year-old son and fled Cambodia in 1980.
Walking for days Through the jungles, hiding from land mines and hiding from land mines patrolling, they joined hundreds of thousands of unwanted illegal immigrants, eventually reaching a refugee camp. The rocket propelled grenade that landed in their field , nearly killing them, it had been intentionally targeted at another group of refugees attempting to cross the border.
Dr. Kuy is still in awe that the surgeon she saved to his injured family he will leave his comfortable home and his family to work in a seedy refugee camp, helping people who do not look like him. To add, he has nothing to give back.
" That's real lly what it means to have compas ion, "he believes.
After living in different refugee camps, Dr. Kuy and her family were able to obtain visas with the help of an American Christian. missionary and ended up in Corvallis, Oregon. His mother took menial jobs cleaning hospital rooms and second jobs cleaning doctors' houses and working in a thrift store to support them.
My mother often tells me how proud she is to be an American and how amazed she is by the kindness of Americans
"My mother was very proud to have the opportunity to work, live without fear and have freedom. She often tells me how proud she is to be an American and how amazed she is by the kindness of Americans, "said Dr. Kuy.
She compares her story to that of the thousands of refugees fleeing Syria today.
"I am not a politician. I am not a legal scholar and there is a lot I don't know about politics and global affairs. I'm just a surgeon. What I do know is that I was once a refugee. And I'm very grateful to this country for opening its doors to my family and me. We fled a genocide, we survived a bombing in the fields of We were refugees and we had absolutely nothing. We were homeless, we didn't speak English, and I had absolutely nothing to offer. And yet I thank God that we were given the opportunity to come to America. I am so proud of to be an American and so thankful for the compassion of the American people. "
We were homeless, we didn't speak English and I had absolutely nothing to offer.
I wish those who helped could know the result of their kindness
"Judy, that American Christian Missionary, may never know, but thanks to her my mother often returns to her village native to Cambodia, where she helps rebuild the community and shares her story of perseverance, hope and faith.Mrs Carver, that teacher who helped two young refugee women resettle to Oregon, may never know it, but thanks to her I have a passion for teaching, and I mentor college students, medical students, and surgical residents. "
Dr. Kuy received the Gerald E. Bruce Community Service Leadership Award from the Ford Family Foundation, which is awarded for selfless initiatives taken in a professional and civic way for the betterment of their communities. She was honored for her work she has done with veterans and healthcare. The award comes with a $ 5,000 grant, which Dr. Kuy has decided to award to an organization that serves veterans. "I'm inspired by people, like Jay Leno and JJ Abrams, who use their talents and abilities to shed light on the tremendous need among veterans."
I don't even know his name, but thanks to him I am alive today. And, as a surgeon, who cares for US veterans, I am a remi. I discovered the privilege of caring for people who fought for the freedoms that I treasure.
Dr. Kuy often thinks of that surgeon who volunteered to work in the fields of Cambodia. "I don't even know his name, but because of him I'm alive today. And, as a surgeon who cares for US veterans, he reminds me of the privilege of caring for people who fought for freedom." I treasure ".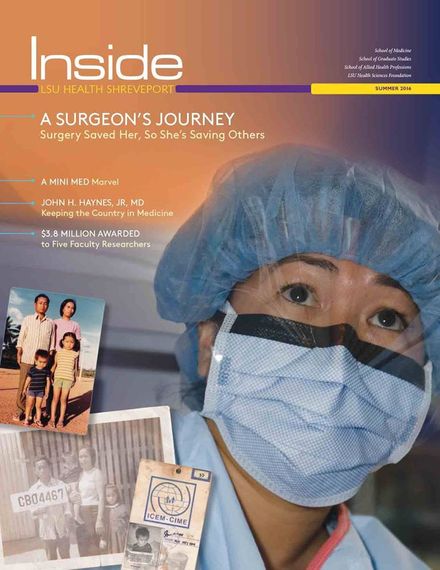 Source link