This morning I testified as a witness before the Subcommittee on Constitution and Civil Justice of the Judicial Committee of the Chamber on the subject of First Amendment Protections on public college and university campuses. Below is my oral testimony, including some of the slides that I showed to the Committee members. (At the time of this publication, the testimony is still in progress!)
Chairman King, Vice Chairman DeSantis, Senior Cohen Member and Distinguished Subcommittee Members ,
My organization, the Foundation for Individual Rights in Education, or "FIRE", was founded in 1999 to defend freedom of expression, academic freedom and the due process on U.S. college campuses. . FIRE is a principles-based, non-partisan non-profit organization and this is reflected both in our staff and in the cases we take on. For example, our litigation project recently defended the right of students to protest cruelty to animals and to advocate for the legalization of marijuana, Second Amendment rights, and more.
Just last week, we filed a lawsuit against Los Angeles Pierce College in California, which told a student that if he wanted to participate in free speech activities, he had to confine himself to a small "free speech zone." The zone comprised only .003% of the campus. In other words, if Pierce College were the size of a tennis court, freedom of expression would be restricted to an area the size of a cell phone.
Since our founding in 1999, FIRE has fought against "free speech zones", the efforts of administrators to quarantine free speech in small areas. And we've beaten many of them, including Texas Tech's infamous "free speech gazebo," the University of Hawaii Hilo's "freedom of speech swamp," and this sad little one at Blinn College, which split into halves. even smaller for a bulletin board. Many institutions even require prior permission for students to speak within zones: for example, the University of Cincinnati requested a 10 business day notice.
Other speech codes include broad and vague speech restrictions that virtually anyone could be found guilty of violating. Take the University of West Alabama's ban on "harsh texting or email", which is in effect, or the now-defunct bans from the University of Connecticut and Drexel University on "inappropriately directed laughter."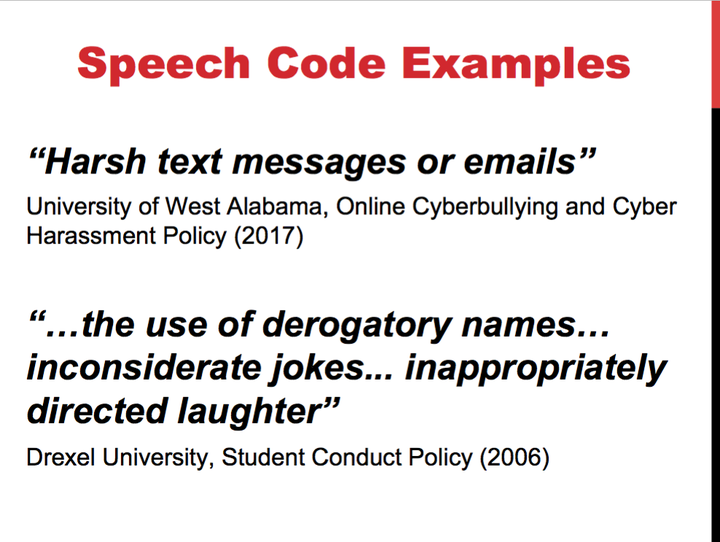 While many speech codes are absurd, fighting them, even at First Amendment-bound colleges, has required more than 60 lawsuits since 1989. And all of The 56 lawsuits that have been concluded have led to a judicial decision to protect speech or the repeal of the speech code.
The money and time that public campuses waste defending these manifestly unconstitutional codes in court is a national scandal. Campuses should not have to be forced to respect First Amendment rights of students.
But there is good news: Since I last spoke to the Committee in 2015, and thanks in large part to a letter that President Goodlatte sent to 161 colleges and universities across the country (and many additional demands), the number of codes voice on campus has decreased significantly.
FIRE uses a simple red, yellow, and green traffic light system to grade written college policies on expression. When we first published our findings in 2007, 75% of universities were maintaining "red light" speech codes, or ridiculously unconstitutional. In 2015, after years of fighting both on and off the court, the percentage of red light codes dropped to around 55%. And since President Goodlatte's letter was sent, that number has dropped below 35% at public universities. At the same time, the number of green light schools (universities whose codes do not threaten freedom of expression) has almost doubled.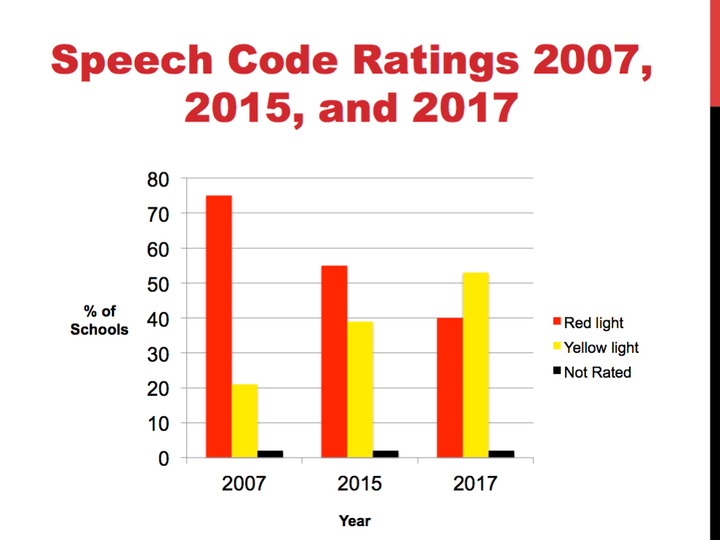 While there is no need to be fatalistic about speech codes, there is still a lot of work to be done, particularly as the Department of Education has championed a definition of sexual harassment that is so vague and broad that seriously threatens campus speech. The Department of Education praised this as a "plan" for all universities to follow, but specifically removed the requirement that speech be both subjective and objectively offensive, and lowered the definition of harassment of any "unwanted verbal conduct" (also known as speech) "of a sexual nature".
To give you an idea of ​​how comprehensive the code is, Professor Teresa Buchanan was fired from her job at Louisiana State University for violating a policy like this "model," allegedly because she explained in realistic detail the way some parents talk to some teachers. He is currently suing Louisiana State University, with the help of FIRE, and we believe that any judge looking at the Department of Education's definition of bullying would have to find it manifestly unconstitutional.
The House Judiciary Committee has already been a great ally in the fight for free speech on campus. Even in these polarized times, we hope that freedom of expression on campus can be an issue that unites all parties.
In my written testimony, I recommend four approaches:
Warning public campuses in every state that speech codes are unconstitutional and can cost the state money unnecessarily.
Support the CAFE Law to put a legislative end to "zones of freedom of expression."
Codify the Supreme Court definition of student-to-student harassment, established in Davis v. Monroe County Board of Education .
Approve a Federal Law on New Voices to protect student journalists.