More than 100 Larry Nassar survivors are urging Michigan State University to fire its interim president , John Engler.
"While our hope was that President Engler brought the responsibility, transparency and change to the MSU, it is clear to us that he can not," says a statement to the Board of Trustees of the MSU, signed by 120 people. proclaimed "surviving sister".
In the statement published on Tuesday morning, the survivors wrote that Engler, 69, "has only reinforced the culture of abuse" at the university, and asked him to resign or be dismissed by the board of directors. The letter included the signatures of Olympic gymnast Aly Raisman and the first woman to speak publicly against Nassar, Rachael Denhollander.
Engler, the former Republican governor of Michigan, was named interim president of MSU in late January, after former president Lou Anna Simon suddenly resigned amid criticism of how he handled the Nassar case.
Engler's resignation is due to a series of leaked emails published this month suggesting that Denhollander was receiving a monetary "bribe" from his lawyer. He also became involved in another controversy in April in which the media reported that he allegedly offered $ 250,000 to a survivor of Nassar. Engler confirmed that he had met with the survivor, but disputed that he had offered him money.
"This is not leadership," the survivors wrote. "President Engler's statements and behavior are subtle threats against anyone who dares to speak out against his abuser and the environment that allowed his predatory behavior, lest they be ridiculed, cheated and ridiculed by a person of immense power."
Nassar survivor and University of Michigan student Morgan McCaul told HuffPost that she signed the letter to protect women and ensure that future survivors are respected when they tell their stories.
"I signed the letter because we can not afford a misogynist to set the campus climate, who we name in office matters," he said. "And so, when … an institution that is committed to making a change has a leader so strongly opposed to For women to seek justice, send a message about institutional priorities, I signed the letter because I fear for women on that campus, and how they can feel when presenting their stories in a hostile environment where John Engler is in charge. "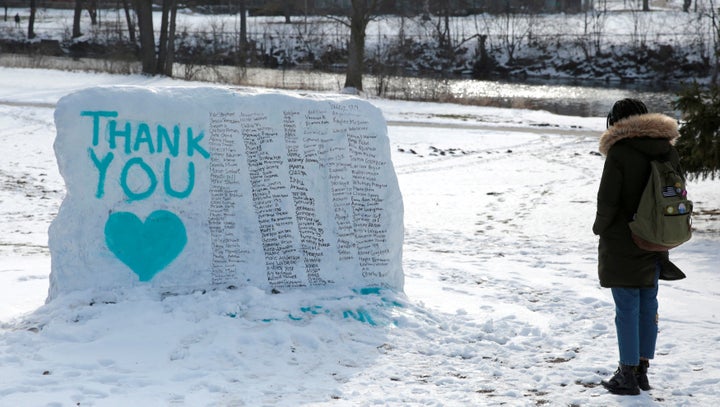 The survivors reiterated in the statement that their main objective is to protect other victims on the MSU campus who have not yet submitted their stories.
"We chose to speak at great personal cost because he was right, because we care about those who are still silent, because we are in favor of protecting those who are still at risk," the letter says. "Current and future survivors who have not yet spoken should know that they will not be attacked and will be assigned the same motivations as the aggressor when they demand justice."
Nassar, the former doctor of MSU and the gymnastics team of EE. UU., Is accused of sexually abusing more than 260 young athletes under the pretext of receiving medical treatment. Now he is serving three prison sentences of up to 175 years for sexual assault and child pornography.
The women addressed each board of directors separately, urging them individually to take action and dismiss Engler. The statement comes three days before the next board meeting.
"There is no debate: President Engler has failed miserably, President Engler and MSU leaders have refused to listen, persist in attacking our character, our integrity and our intelligence, and these attacks send a clear message that survivors who speak they will also be attacked, "says the statement.
"They send a clear message that the perpetrators and enablers will not be responsible, they send a clear message that nothing in MSU, none of the mentalities that allowed Larry Nassar to abuse children for decades, has changed," the letter continues. "Therefore, it is our position that MSU can not move forward and become an institution of integrity and security until John Engler is no longer president, and a new interim leader is found who will oppose an abusive culture."
Brian Mossalam and Dianne Byrum, two of MSU's publicly elected trustees, also requested the resignation of Engler.
"Unfortunately, and with great regret, John Engler's tenure as interim president has continued the bleeding rather than stopping it," Mosallam said in a statement on Friday. "Their wrong actions and comments have failed to restore confidence at Michigan State University."
Read the full statement below.