Increase in cases of trauma in the University Hospital

29 May 2018
Updated: May 29, 2018 at 6:53 p.m.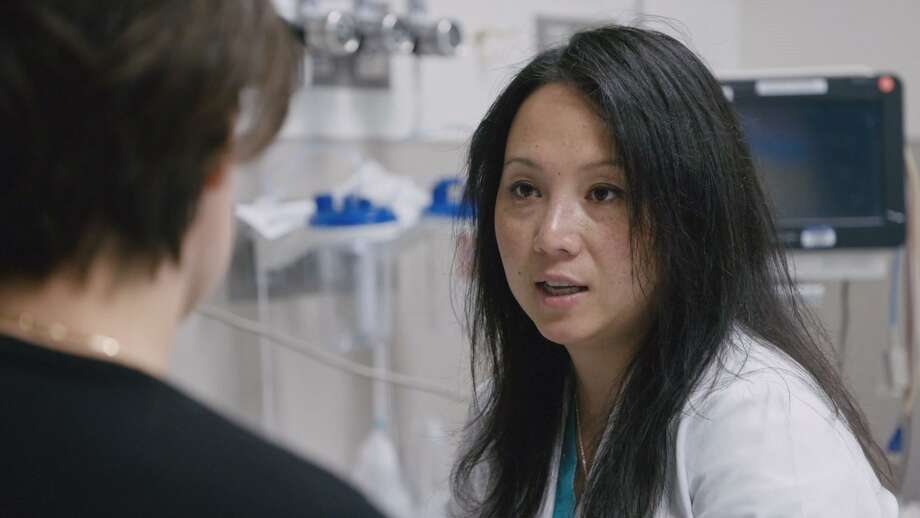 Photo: Courtesy of the "Vice" of HBO /

Dr. Lillian Liao, pediatric trauma surgeon at University Hospital, was interviewed on HBO's "Vice" news program about her treatment of the Sutherland Springs shooting victims late last year.
Pediatric trauma surgeon of the University Hospital Dr. Lillian Liao, …
According to the number admitted to the Hospital University last year, children in the area affected by shootings, car accidents, burns or being hit with objects continued a general five-year increase that affects health officials.
Print subscribers obtain a password for their existing account here
The "annual report on community trauma" from the University Hospital for the year 2017 provides the broadest statistical portrait of how Sanantonians and those who live in the surrounding counties are injured and sometimes die. But the figures come from a single hospital and officials can not offer firm reasons for the upward trend.
University staff said a more comprehensive study of armed violence, with the help of local police, may be necessary to understand the number of children injured by firearms, which went from nine victims in 2013 to 38 in 2016 and then 31 in 2017.
"Honestly, we have no explanation," said Dr. Lillian Liao, director of traumatic medicine and pediatric burns at the University, after a press conference on Tuesday at the campus of the hospital's medical center. "Without further study, it is difficult to comment on the cause."
Regardless of its cause, the problem calls for more educational campaigns on the safety of firearms in the home, Liao said. Similar efforts to promote the use of child safety seats and prevent children from using fireworks may have helped reduce or slow the growth of those numbers of injuries. Fireworks injuries at the University have decreased from 29 to 19 since 2013.
Shots were not the only category in which sharp increases were observed. Last year, the hospital treated 166 children who had been hit with objects – belts, sticks, boards, rocks, skateboards – an increase of 1,409 percent compared to 2013. Children affected by burns increased by 50 percent, animal bites by 70 percent, falls by 103 percent, electric discharges by 40 percent and all assaults by 133 percent in the last five years.
Car accidents continue to be the main cause of injuries in hospital patients. The head of adult trauma, Dr. Mark Muir, said that falls, especially among the elderly, continue to cause lead among adults, followed by vehicle crashes, burns, being hit by an object and being hit by a vehicle as a pedestrian. .
In a trend observed throughout the country, the University reported an increase in bicycle injuries, from 34 to 98, from 2016 to 2017. Adult injuries from burns, explosions and being struck by an object increased exponentially in five years – 278 University patients aged 17 years and older were injured by objects last year, compared to only 27 in 2013.
Hospital and military officials used the press conference to reiterate their concern that the Brooke Army Medical Center, a Level 1 trauma center – and the only one in the Department of Defense – would be threatened if Methodist Hospital expands its existing trauma center .
Dr. Brian Eastridge, head of trauma and emergency surgery at UT Health San Antonio, wrote in an introduction to the trauma study that "competitive forces have led private hospitals to seek a higher level of trauma designation" and that I expected elected officials to recognize San Antonio "the only" association with BAMC.
"While we believe that competition is generally a good thing," Eastridge wrote, "the care of life-threatening injuries can have unintended consequences."
Col. Kurt Edwards, former head of trauma at BAMC, said that if existing BAMC patients were diverted to a competitive trauma center, reducing the workload could cause the Pentagon to send fewer military doctors to San Antonio for their training.
BAMC and University Hospital have the only Level 1 trauma centers in San Antonio and serve a region of 22 counties in Southwest Texas with a population of more than 2.2 million.
Methodist Hospital had considered adding a Level 2 trauma center, a reduced version with no education and research capability. Methodist spokeswoman Palmira Arellano said in December that the hospital was "doing our due diligence and investigating the needs of the community."
He also said that "the unfortunate increase in natural disasters and tragic events that have occurred recently in the United States have caused many communities across the country to investigate the proper structure of trauma levels within their regions."
bselcraig@express-news.net